CHAMPIONS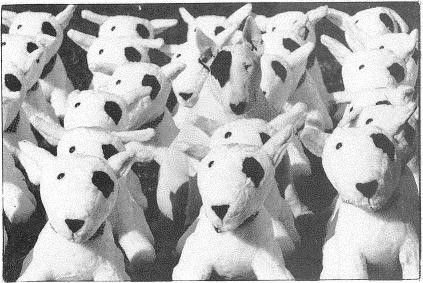 "Polly" ~ CH MAOLMHIN DEVILS DELITE [rom]
photo was on the front page of the Adelaide Advertiser !!

C H A M P I O N S
Listed below are dogs/bitches I have bred or owned that I have successfully
campaigned to their championship, many receiving BEST EXHIBIT IN SHOW,
either at Specialties or All Breed Champ Shows !
Home of 64Champions ~ bred52 & owned12,~ 7ROM, 6Grand, 3Supreme:
MAOLMHIN ITS A KIND A MAGIC
MAOLMHIN AZERBAIJAN
MAOLMHIN ROAD SPIKE
MAOLMHIN GALAXY DEFENER
MAOLMHIN PURPLE RAIN
MAOLMHIN SERGEANT AT ARMS
MAOLMHIN CYOTE UGLY
supreme MAOLMHIN BAD ROMANCE
MAOLMHIN LOVE GAME
MAOLMHIN INTERCEPTOR
MAOLMHIN MADISON AVENUE
MAOLMHIN TRANVISION VAMP
MAOLMHIN HOLLYWOOD SPIRIT
MAOLMHIN IDOL EYEZ
supreme MAOLMHIN AFRICAN ICE rom
MAOLMHIN STAR FIGHTER
MAOLMHIN AFRICAN NITES
MAOLMHIN LOVE POTION
MAOLMHIN HOLLYWOOD HERO
MAOLMHIN DAYTONA DEMON
MAOLMHIN AFRICAN SUNRISE [ai]
MAOLMHIN VANILLA ICE [ai]
grand MAOLMHIN SEDUCTION rom
MAOLMHIN TARTAN ABOUT
grand MAOLMHIN DEVILS VOODOO rom
MAOLMHIN KLANSMAN
MAOLMHIN ICEMAN
grand MAOLMHIN LAZER DESIGNS
MAOLMHIN MATERIAL GIRL
grand MAOLMHIN SUN DEMON
MAOLMHIN DEVILS CHARM
MAOLMHIN DEVILS DIAMOND
MAOLMHIN DEVILS FANTASY
MAOLMHIN BARNSTORMER
MAOLMHIN ENCHANTRESS
MAOLMHIN JOKERS WILD
MAOLMHIN ORIENTAL DREAMS
MAOLMHIN DEVILS DEMON
MAOLMHIN DEVILS DELITE rom
MAOLMHIN GIDEON
MAOLMHIN SHEMARRAN
MAOLMHIN LADY BETTINA
MAOLMHIN GALAHAD
MAOLMHIN AENEAS


BULLROY RIPCORD (v)
supreme BULLPATCHY RIDER OF LEON (v)
BEKMAR STEVE MILLER (n)
BOROMIR QUICKSILVER [imp nz] rom
grand BEKMAR BILLY IDOL (n) rom
BARGUSBY BATHURST BOY (n)
BOROMIR HOLY ROLLER [imp nz]
SYMANN HALLOWEEN
HUNKPAPA MEMPHIS BELLE (c)
HUNKPAPA MEDICINE MAN (c)
CANTON CERIDWEN [imp uk]
MHLOPE MINERVA


BULL TERRIER (miniture) champions
MAOLMHIN TROUBLE WITH A WISPA
MAOLMHIN ROLL WITH IT
MAOLMHIN BRING THE ACTION
MAOLMHIN LOVE SPELL
MAOLMHIN KARDASHIAN
MAOLMHIN ARCHIE
MAOLMHIN SIGNTURE SERIES
MAOLMHIN TIA MARIA
MAOLMHIN SONIC BOOM
grand MAOLMHIN AUCHENTOSHAN rom
MAOLMHIN KLEINE KRYSTAL



Grand Champion was introduced in 1998, to achieve this 1,000 challenge points was required.
I am very proud to announce that MAOLMHIN were the 1st to breed a Grand Champion &
the 1st to breed a Grand Champion Recognition of Merit (ROM) winner !

Supreme Champion was introduced in 2012, requirement: 1,000 challenge points plus
10 Best Exhibit in Group (Group 1st) and/or 3 Best In Shows
I am very proud to announce that MAOLMHIN was the 1st to breed a
Supreme Champion Recognition of Merit (ROM) winner !
Contact Details
D I A N E C U T H B E R T
~ M A O L M H I N ~
Bull Terriers & Bull Terriers (miniature)
MOBILE: 0432~866~528 E~MAIL: [email protected]
Adelaide SOUTH AUSTRALIA